Joined

Apr 27, 2015
Messages

430
Reaction score

687
Location
Hardiness Zone

5
Country
Here's another (h)air-brained idea that occurred to me last fall, but I couldn't pursue it until now. I mentioned in another thread that we had a huge juniper bush by the "inn" and when that was deemed excess and had to come out it left a piece of real estate that I filled with what we call "The Annex". We pushed and tugged a few rocks around to fill it in and started a little "grotto" -type garden that will mature into a pleasant little place just to visit.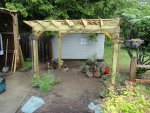 We have Clematis climbing up the sunny legs, and several Yarrows around the front. I had thought of wisteria and a few other vines to grow up around the legs to provide a "roof" of sorts, then considered the time involved to have the coverage my mind's eye saw.
Enter the idea...........what if instead of having vines growing up the legs and across the "roof" I built a couple of plumbed in linered mini bogs and had stuff growing across the top and flowing down? A couple of long boxes down each side with some lattice across the "rafters" to support the growth. I'm thinking it shouldn't take too long to see some results. Full sun, pond water, and although not large they should prove to be a benefit.
Here's a few photos of where the project is this afternoon. I'll detail the plumbing and continued construction in a subsequent post.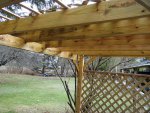 The boxes/troughs will sit on cleats fastened to the inside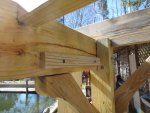 Roughed out box ready for a trial fit before the liner
First box test-fit on the cleats. The boxes are a slide fit and shouldn't sag because of the side fasteners. The cleats won't move because the "rafters" are notched and won't allow the header to move outward. There will be trim pieces to cover the exposed fasteners.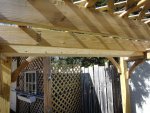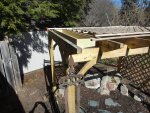 I have the supply line figured out for the back side of the structure (accessible, but not visually obtrusive) with valves dedicated to each box so the flow (the pump is rated at a thirteen foot head. We're at eight feet,) can be controlled and not over come the return..........
.......here's hoping anyway.