Joined

Mar 20, 2011
Messages

7,205
Reaction score

4,715
Location
Hardiness Zone

5b
Well, decided to get my new thread up and running. Last summer I joined this forum around February, and by middle of May I was beginning the dig on my first ever pond! I can say that it has been a thrill, and something I will remember for the rest of my life. I learned so much on this forum, and better than that, I met so many wonderful people to help me along the way. I asked some pretty simple questions way back then, but never was belittled or made to feel stupid, you all just babied me along until I "got it".
So, now I have decided to separate the koi and goldfish into their own ponds. The koi will get to keep the larger pond (about 4,000 gal), and the goldfish will be moved into the new pond (not positive of the gallons yet, will have to wait until the digging is finished).
Here is a drawing of my plan.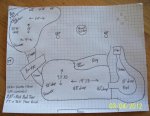 And, to get an idea of my existing pond and where the new pond will go, here are a couple of pictures, one from inside the house (our last - hopefully - snowfall) and the other from the front edge of the deck.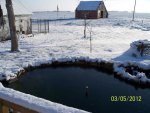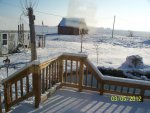 Tomorrow I start digging. I'll be posting pics as I go. I laid out a hose tonight to see the approximate size of the pond, and did some tweaking. This pond will have a bog as it's main filter. I will have a skimmer that will feed the stream, and a submersible pump that will feed the bog and maybe a fountain or waterwheel, if I decide to incorporate a waterwheel later on.