I have a very small pond converted from a rock pond. It measures 6 or 7 feet long by maybe four or five feet wide and 10 or so inches deep. I've been removing some of the river rock to make more room for actual water displacement. It seems to have opened it up quite a bit, but has taken away some of the hiding places, I think.
I have some (last count, 8) Rosy Red Minnows.
A few minutes ago, I went out and topped off the water, maybe 5 or 10 gallons. I was surprised to see one of the fish swimming around (I think I may have disturbed her when I added the water). Anyway, she (I'm assuming) looked fat, not sleek like the normal minnow. I am thinking that she may be full of eggs. The only thing in the pond is a relatively small horn wort plant. I'm hoping that could be a little hiding area, if need be? I will let nature take its course, if she indeed is full of eggs (I want to say pregnant, but I read on here where they don't get pregnant, but egg bound ). Time will tell.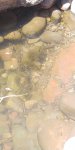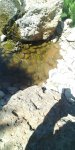 The first pic should show the tiny fish. If, so, is she egg bound? The second pic should show the horn wort (as does the third pic). In the second picture, does the horn wort look OK like it's alive/growing? It's been in the pond a couple of weeks, I think. Three days ago, I removed quite a few rocks and made the water pretty murky (fine now), so the plant looks like it might be coated with a film of dirt? Or is it not doing well?