Joined

Mar 20, 2011
Messages

7,190
Reaction score

4,685
Location
Hardiness Zone

5b
Hoping someone will be able to help me figure out what this goldfish has on it's sides. It has been there for close to a year, seems to be getting larger, though. No other fish have bumps, not even little ones. But the fact these are getting larger, almost look like blisters now, wondering what it could be. The fish eats vigorously, swims normally, seems very active and nothing out of the ordinary ... except for the bumps.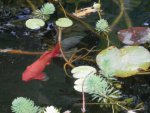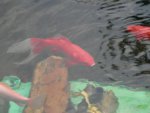 As a side note, or maybe front and center, I have been having problems with fish dying in this pond since first week of August. After 3 large water changes, the deaths have dwindled to about one fish every 10-14 days, but that's not perfect, obviously. I had 3 koi in this pond, otherwise all goldfish. I added fantails without quarantining them this summer, very likely brought in a disease. Other possible issue was corn fields that surround my 6 acres were sprayed with a fungicide 2 days before fish started dying, and in the beginning they were dying 2-4 a day! After water changes, that pretty much stopped, so pretty sure the fungicide (sprayed by plane) drifted and caused some type of problem with the fish. The strange part is that only goldfish were dying, the koi were fine. I did end up losing one of the 3 koi about 40 days after the initial deaths started. However, the koi pond, which is 20' from the goldfish pond and has only koi in it, has had no sick fish, no deaths whatsoever. That part leads me to think the fungicide. There is a chemical that is deadly to goldfish (Super Verm), but perfectly safe for treating koi. I've tried to research the chemical used on the fields (BASF Headline Amp) but not found the exact chemical used.
Any help or suggestions anyone can give will be greatly appreciated. My koi pond is 2 years old (built in 2011) and goldfish pond was built last year (2012). Have not lost any koi (except one that jumped out first day in the pond first year) or goldfish, until this issue first week of August.
Oh, and no chemical was able to wash into the pond, both ponds are at minimum 4" above grade level, and koi pond does not share water with the goldfish pond.