Hello all!
My name is Robin and I have been following this forum for some time and your advice has helped several of my pond builds. Although I enjoy all ponds and love tinkering with my father in laws Koi pond, I have 5 pet ducks and I have been working for years to find the correct combination of capacity and filtration to build them a pond that can be filtered and kept nice. I know a lot of you have beautiful Koi ponds, but I thought I would talk about my duck pond since this forum has been so helpful to my builds and I would like to join a community to talk about ponds. My wife………does not want to hear about ponds anymore.
My latest build, which incorporates much trial and error as well as MANY lessons learned is this: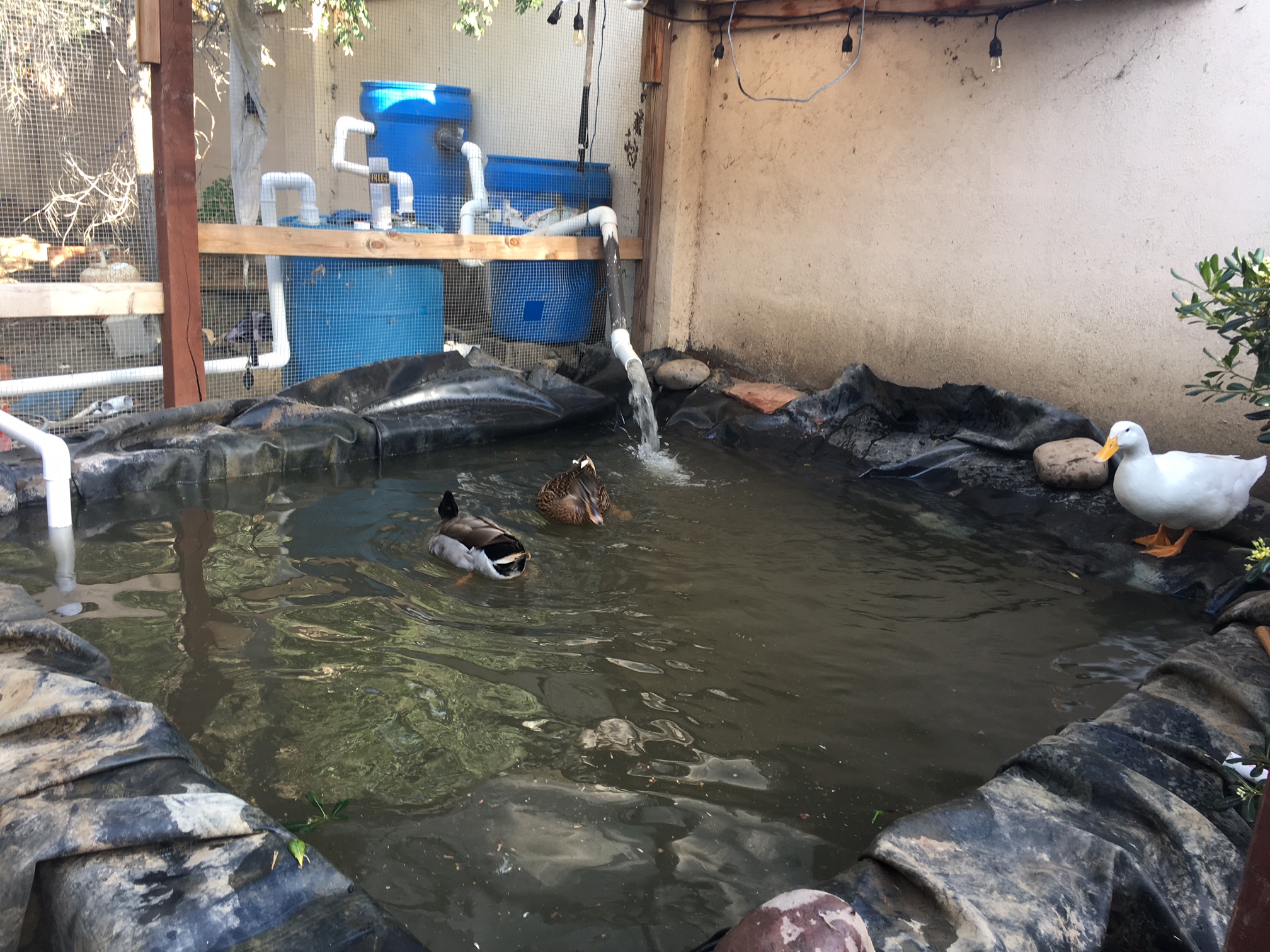 It is a 8x7x4 (~1600 Gallon) square above ground pond built from 3 sides of Cinder blocks and a gentle dirt slope on the fourth side. I used a firestone EPDM liner and several layers of underlayment. I have a closed loop UV filter and pump and a three-stage filter system which I am in the process of building a fourth TT stage.
The problem with ducks is the prolific pooping and the dirt that they love to bring into the pond so they can dabble with their Bills. Before I could even think about water quality and clarity I had to get rid of all that solid matter. Fortunately, most of this sludge sinks to the bottom, so I mounted a solid handling pump to the bottom to suck all the sludge to the filter system.
The first filter is a 55-gallon settling tank. The dirt tends to settle on the bottom while the duck poop is pumped into the second stage. The second stage is essentially a swirl filter that deposits the poop on the bottom and the water flows through two Matala medium filters and catches any matter that didn't settle.
The remaining water and poop is sent to the third stage which is identical to the second stage except the filter media is finer and there is a layer of Bio Balls the water goes through after the media. After that, all the solid matter has been screened and the water returns to the pond. However, I am in the process of adding a TT after the third stage and moving the bio balls from the third stage to a dedicated fourth stage TT of bio balls which will then feed the (future) waterfall.
The OTHER problem with ducks is they are waddling garbage disposers and they LOVE plants. I planted several IRIS's last night and there was a feeding frenzy that would make a school of piranha's nervous. It took 2 minutes for them to chomp every IRIS into little bits and swallow them. Oh well, another challenge to overcome!
The good thing about ducks is the water quality does not have to be perfect as it is recreation for them, so I have lots of time to get this right and experiment. I am currently waiting for the new pond to hit equilibrium so I can see what needs to be adjusted. However, with regular maintenance on the filters, my last pond was able to achieve good water quality with pretty good clarity and this one will too.
I have much work to do and I know it doesn't look like much yet, but it is an ongoing project.
Thanks for letting me share and I look forward to hearing your feedback and talking to you all soon!