Joined

Apr 28, 2011
Messages

9,803
Reaction score

5,614
Location
Hardiness Zone

8b
Country
I hope you guys don't get tired of my turtle bog..... Please don't get tired of my turtle bog...... I am "mechanically challenged" and really could use as many
in-the-box
and
out-of-the-box
[sort of pun intended....since they are BOX turtles
] suggestions as possible. Now, I will say, that I have certain criteria for this project, and whatever I end up doing HAS to fit that criteria......within reason.....I will explore every suggestion, and maybe even end up combining ideas!
Hopefully, my drawings and pictures will help explain. I'm a "visual" person.
I NEED TO MAKE A RAMP IN THE TURTLE BOG!
Box turtles aren't aquatic. If they try to climb out on a poor surface, they could flip over [or "turtle"] and would not be able to right themselves in water like they could on land.
The turtle bog is approx. 6' x 3' x10". In that space I have to accomodate a "watering hole" for the turtles [2 sides, one for girl, one for boys] AND gravel for planting the bog part. [see picture]
Turtles have to be able to safely enter and exit their "watering hole."
One side of the "watering hole," will be "bog" and there will be an area of built-up rocks to hold back the gravel and form a "beach" area.
The other side will be.....vertical wall [this is a design change from the original]
MY CHALLENGE: I need to come up with a "ramp" that will run the length of the vertical wall [see the GREEN area I have outlined in the pic].
The ramp needs to be:
Something I can easily build -- I am challenged, there, remember
.....with not TOO MUCH work or brain power involved
About 8' long [see drawing]
Will need to extend into the bog along the vertical wall about, oh, 6" [see drawing]
It will need to slant [see drawing]
It will need to have a top-side anchor point [to hold it in place] [see drawing]
It will be partially submerged and in contact with the liner, so no wood or metals [see drawing]
Since this will be the surface the turtles will use to climb out of the water, surface needs to be something they can easily grip
Needs to be durable enough to last a few years
Would be nice if it was aesthetically pleasing....but my higher priority is for functionality
THINGS I HAVE CONSIDERED:
Expandable foam -- like waterfall foam
I found a paint can grid [you put in the can to run brush on] that was the PERFECT "idea," that got me started thinking about layering over a PVC pipe frame....
Thought about using concrete to form the ramp......
.....and that's the extent of what I can come up with....
"Green" area = proposed ramp; "blue" area = watering hole
THE CHALLENGE!
Paint can "grid" and plastic gutter guard -- this is what gave me the idea below, but surely there's an easier, simpler solution out there!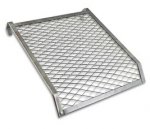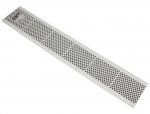 That's a LOT of PVC to make an 8' long ramp!