Joined

Apr 13, 2019
Messages

2
Reaction score

1
Country
Hello,
We've just moved into a house that came with a nice fish pond. We have food for the fish but i'd love some help understanding the filters and electrics if possible!
There seems to be an electric pump thats left on the side of the pond (under bucket), not sure what this is for - is it meant to be put in the pond? See pictures below.
Then, behind the plant there is a Pro Clear UV30 filter, that has two tubes going into the pond - an intake and an output i guess! I have no idea how to turn this on, would it be manual or a timer? How often should it be turned on etc?
Whenever i turn the power on for what I think is all this stuff, the bucket pump comes on, and i can see the UV light in the filter is active, but nothing else seems to happen?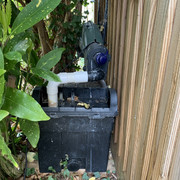 Thanks for any help!