Joined

Jul 13, 2011
Messages

401
Reaction score

111
Location
Hardiness Zone

6a
Country
Hi everyone! So once again I am having this problem with my pond edge after all of the ground freezing and thawing all winter. I went into the winter before this one with my edge rocks just placed on top of the liner. Several of them fell in the pond by the time spring came and the liner slouched down. I fixed all this by using waterfall foam to adhere every single rock to the liner and then I cut the liner off behind the rocks and mulched in behind it creating like an "L" shape to the liner so I could bring my water level to above the bottom of the rocks. It was perfect and I thought that since they were adhered then this year the rocks would all stay in place. Here is the before and after photo from last spring.
Well that did not work. Now ground has shifted more and the liner and rocks have come away again. It's like a landslide. So I need advice on how to fix this once and for all this spring so I can stop having this nightmare every spring!!! Here are pics of how it looks right now.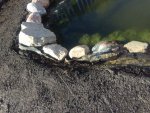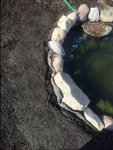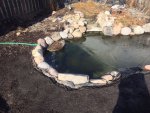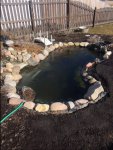 I have heavy clay soil. But I have also brought in a lot of black top soil for the garden part of this. Its mostly all in the back. I can only think of two options here, because as you can see, there is no extra liner. I think I either have to completely replace my pond liner, or use seam tape to adhere a second liner to the one that is already there. Replacing the whole liner will be a nightmare! I have two liners as it is, the main pond liner and then a second liner that overlaps that for the bog and waterfall. I did not use anything to seam the two liners. I simply left about a two foot overlap and have never had any problems. However I think it will be impossible to get the main liner out and replace it without having to completely remove the rocks in the back and the ones for my waterfall. I'm also worried that moving all of that will disrupt the soil settling where all of my plants are and where the ground slants upwards behind the pond. Here's pictures of the garden during summer: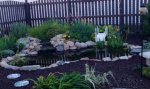 I really do not want to mess that up
So how do I go about fixing all this so that I don't continue to have this problem every spring?? Also keep in mind that my skimmer box is currently in the area where everything is messed up so I'm pretty sure I'm going to have to redo that area also.
If I buy a second large liner, could I just overlap it so that it reaches the pond bottom where I have rocks to anchor it? I was thinking of draining the pond. digging to reshape the front half. Removing the plant shelf in the front only so that wall of the pond is completely straight down and creating a slight slope at the ground level that slopes away from the water to place the rocks on. Like this:
brown line = mulch
thick black line = new liner
thin black line = old liner
blue line = water
grey = rock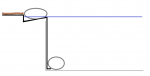 Thank you guys for your help in advance!!