Joined

Apr 24, 2021
Messages

3
Reaction score

1
Location
Hardiness Zone

cusp of 6 and 7
Country
Hi everyone. We moved into our new-to-us house back in November and it came with a pond! It's approximately 11' by 9' and 3.5' at the deepest part. Based on what I'm reading I think it's a wee bit overcrowded as I counted at least 30 koi of varying sizes. This was from December:
. I think they bred a few times as there were several really small ones initially.. I'm unsure of the exact gallons of this but pretty sure it can't support 30
.
The pump was running all winter so took the filter box apart to clean the sponge and check the media balls. The bottom of the media ball area had about 3 inches of sludge in it and another 3 or so on top of the filter pad. The UV light was burnt out. I didn't know you were supposed to remove it during the winter. Lesson learned! I guess it froze as the glass liner that holds the uv bulb was cracked and the unit wouldn't turn on any longer so replaced it, and cleaned out the filter. Some clean-out shots. The fish were hovering around. I'd like to say they were curious, but I think it was more they were wanting to eat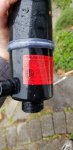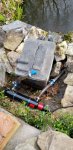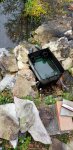 Here's the pond in April, coming to life with plants. You see a bunch of lily pads starting to sprout, purple irises to the left and pickerelweed to the right. the island has a hodgepodge of unknown plants.
unfortunately we had a very persistent heron checking out our pond. My wife and both work from home currently so were able to chase it away, but it left us no choice but to leave the leaf netting on to keep it out. Once the lily pads really started growing, we tried removing the netting to see if the heron would return and so far I think the plant life is hiding them sufficiently. No visits since!
Here's where it stands now:
I was pleasantly surprised at how pretty the lily blooms were:
I got a test kit just to see how things were running and amazingly everything tested fine considering how many fish are currently in the pond -- no ammonia, nitrates/nitrites and PH was fine too. Water is fairly clear, just a build up of slimy moss stuff on the rocks by the waterfall. I'm not sure if that's normal but it looks similar to what I've seen in streams so thinking yes?
I'd like to redo the pond in a few years as it's kind of falling apart. The retaining wall around it is starting to shift and I'd like to make it bigger and a different look. However, not bad for an inherited pond, but I may need to get rid of a few fish.