Wow, Such amazing pictures and stories about your pond and critters who visit.

So awesome you got to watch the deer giving birth. Do you put feed out for them?
I have two different areas on the property where I've planted food plots for the deer. One is a small one on the back side of the pond. The second is a larger one in the back area of our 3 acre yard. (mowing takes a while) A bunch of different sweet clovers and other perennials they like to eat. In the next couple months we will be seeing more and more of them grouped together. This "yarding" behavior is common during mid to late winter. There were a few times the last couple years when we've seen 40 to 60 of them coming out of our woods just before dark to feed in our neigbors hay field. He grows it for his beef cattle and the deer feed year round on his hay field. I'm just the lucky guy next door. Here are some more pics, especially of the matriarch doe who stands a head taller than all the other deer she hangs out with , including some very respectable bucks. She is a big doe and there is no mistaking her with the others. She is huge for a doe.
j
Edit: I've noticed that it sometimes requires refreshing the page to see all the photos.
More pics
Triplets Before And After
Here she is very pregnant last May. I believe this doe is 6, and responsible for at least 10 more deer to the local herd. This matriarch keeps the herd healthy and smart. Some of her offspring are very respectable bucks. She had been having twins for at least three years in a row prior to this year. This year, she had triplets.
The first time we saw her with the triplets in early June
Late June, note the darker larger one in the middle. Later in the
year you can see the developing antlers on this "button" buck. The other two are does.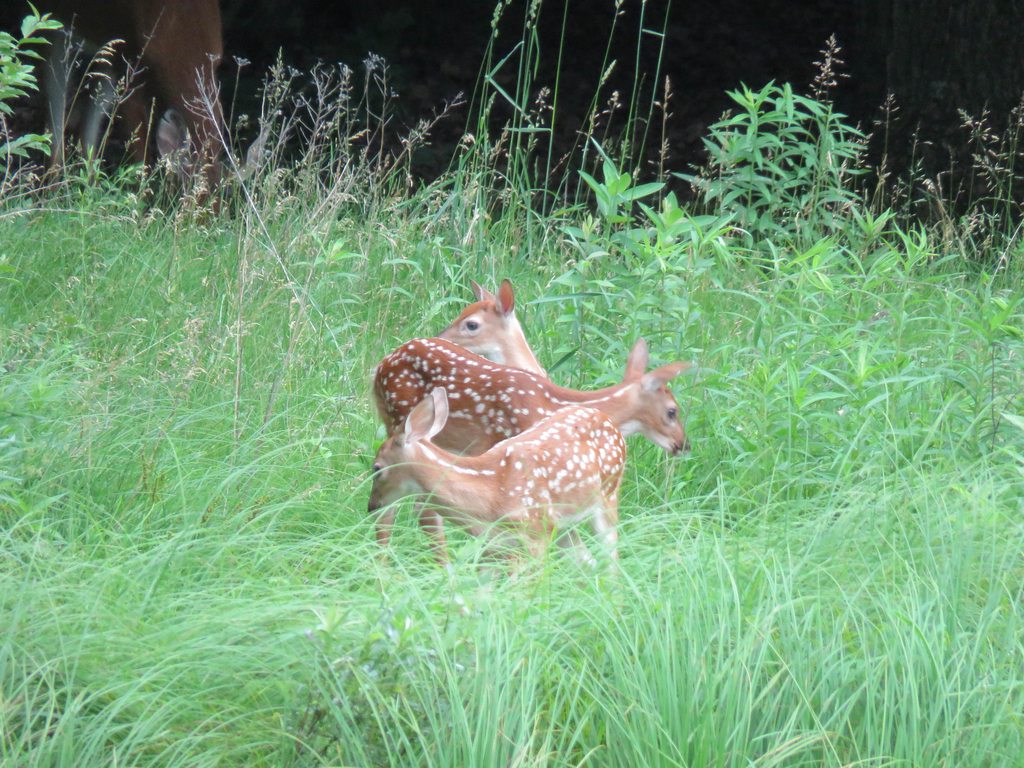 July - Note the doe trying for a red wing black bird in the second shot *(not unheard of), and she was very gaunt looking after giving birth to three. I didn't see if she got it or not because my attention was on the camera. They went into the taller grass behind them after this shot so I couldn't tell, but at the time I took the shot, I wasn't even thinking about the bird. It was later that I noticed her mouth open and then researched this and found that they have been known to eat small animals and birds when their body needs the protein.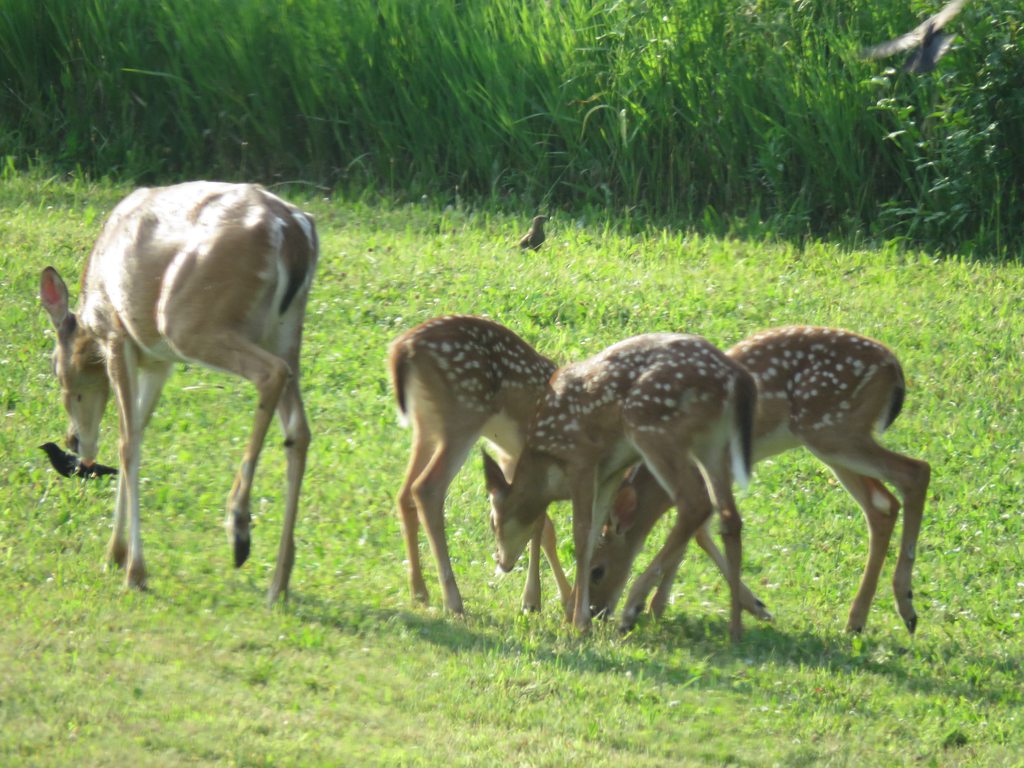 August
This is a recent shot of them taken on 11/2. Note the larger fawn behind her. It's a button buck. The other two look like does. She was very gaunt looking right after giving birth to these three but she has put on a bunch of weight and now looks ready for another winter. A nine and ten point had both been chasing her in late Oct. She is now probably pregnant with another batch.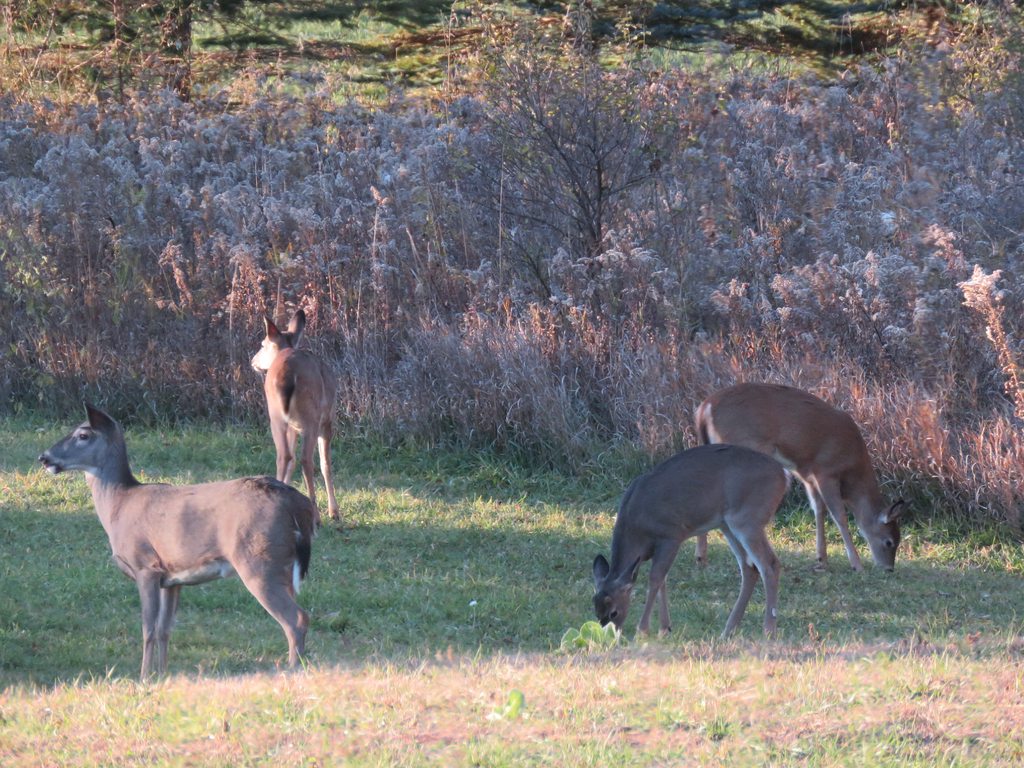 Here are the two different bucks , a nine point and a ten point, that were both chasing her in late Oct during the rut. We watched these two all summer in the food plots I put in for them.
That was this year, but lets back up the story one year.
My most memorable Marty Stauffer moment by far happened the year before in late May of '17. I had filled my coffee cup and was going to go downstairs to my man cave , but decided to look out the back window of our home first to see if the turkeys were coming out of the woods yet and making their way toward the bird feeders. (They're the clean up crew). Imagine my surprise when I saw two twin bucks, just starting to grow their antlers looking at me in the window watching them. They would look at me and then turn their heads and look to the west. This went on for about 5 minutes, and I assumed they were looking at other deer that may be headed their way.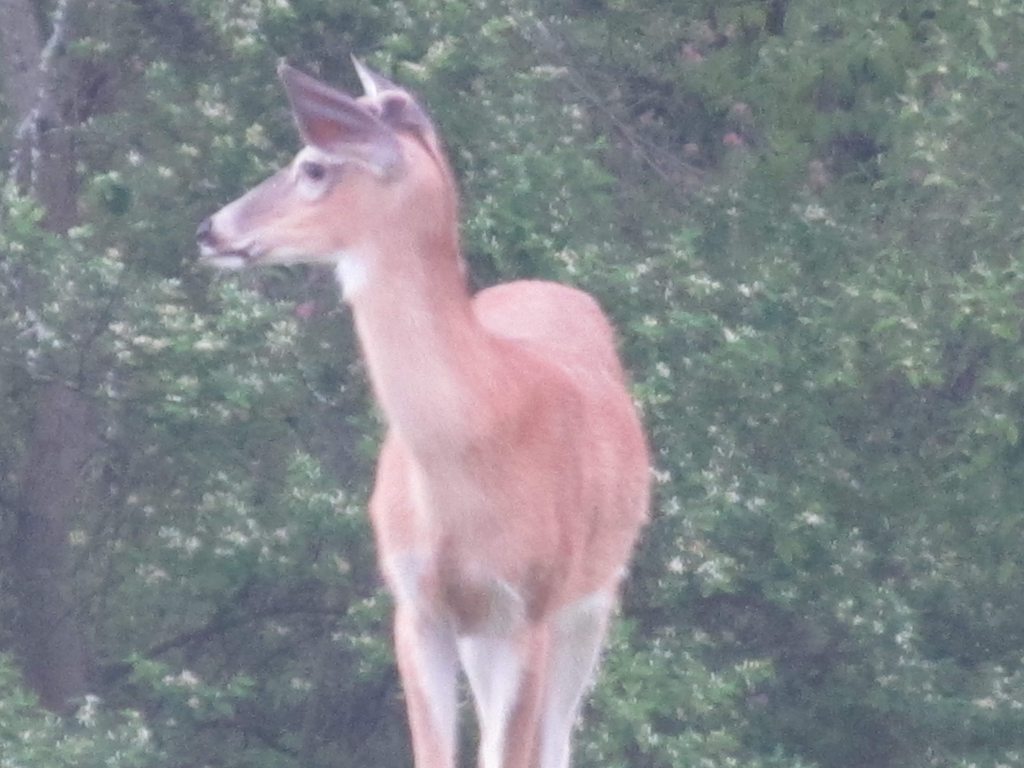 I shifted my position and looked out the window in the direction they had been looking and was amazed at what I was saw. It was their mom having another set of twins right in our back yard. I woke my wife and we watched with our mouths hanging open as to what we were seeing. While she was licking them clean, her twins from the prior year were watching from about 50 feet away. After about 20 minutes, the young bucks came in to check out the new additions to the local herd. Had these two not been her prior offspring, she would not have let them near the newborns, but she allowed them to sniff them.
Our three corgis were wanting to go out and do their morning routine but we made them wait as we did not want to interrupt what we were witnessing. It took about 40 minutes before she ushered them off to the woods, and all the while they were aware of our presence watching them from the window of our home. We were apparently not enough of a threat for them to run off. So awesome to have seen this.
I just wish I had been shooting with the Canon SX 60 I bought last spring instead of the SX 12 which is a very cheap camera. That is why I know this deer so well. We see her almost daily with her 3 fawns as they use the food plots I put in for the deer. Lots of sweet clover varieties they love with some other perennials they like. I love watching them. This doe is huge and stands a head taller than the mature bucks we've seen her with. She survives 3 months of hunting in Michigan and teaches her offspring this knowledge and that keeps the herd healthy and smart.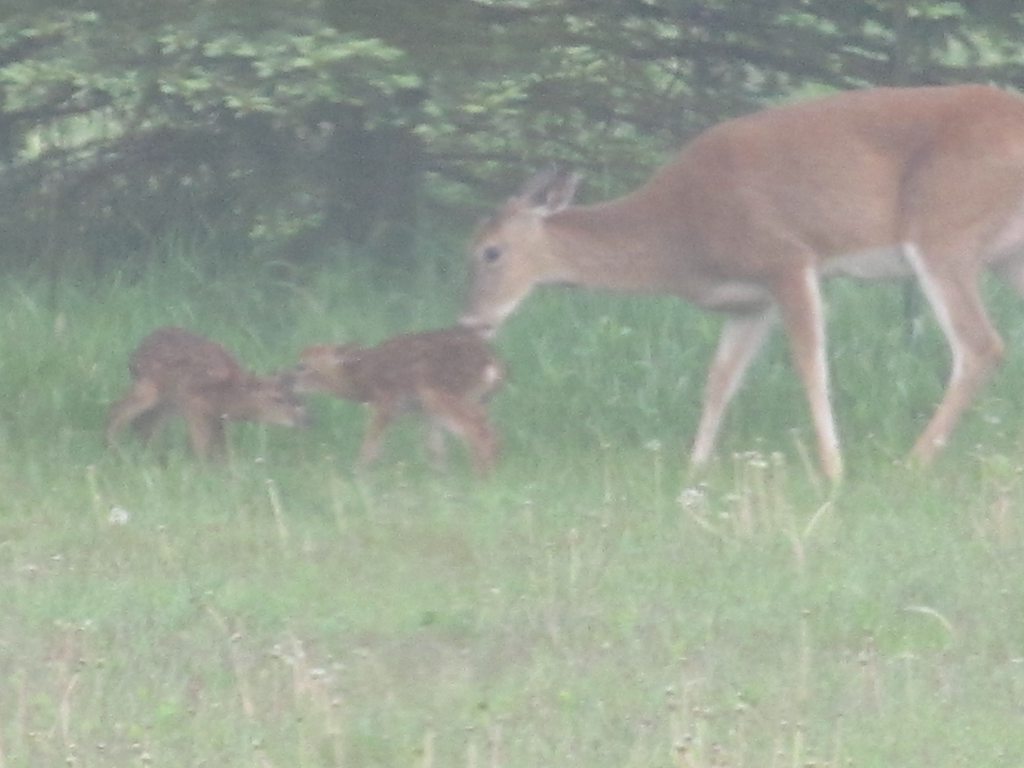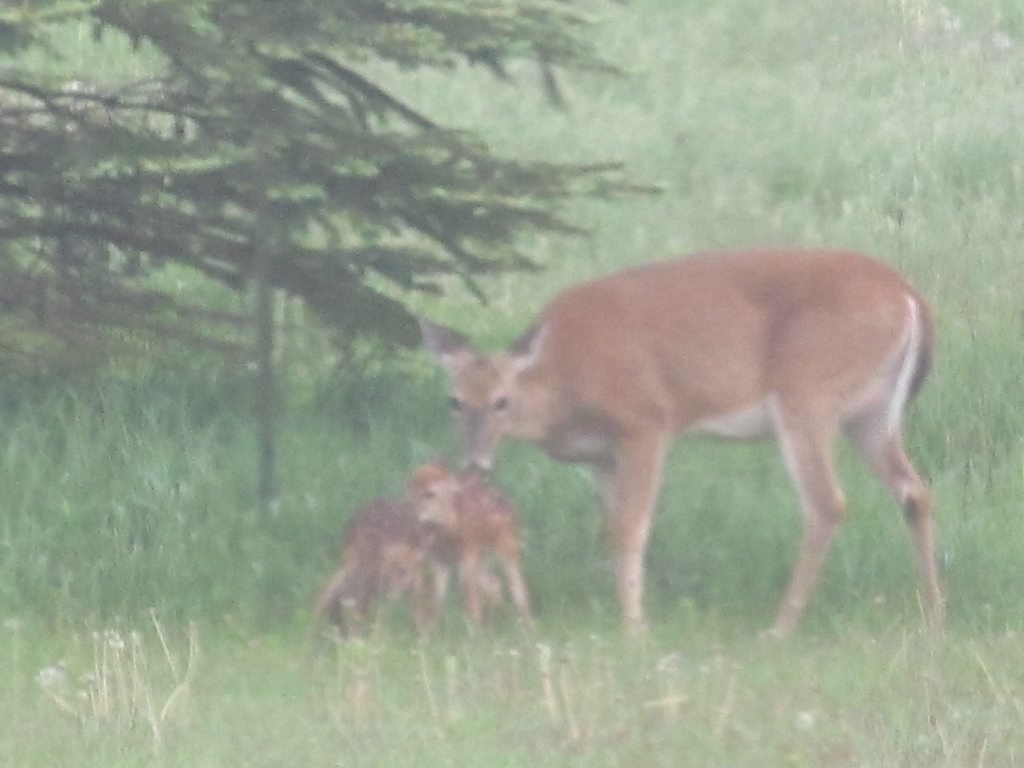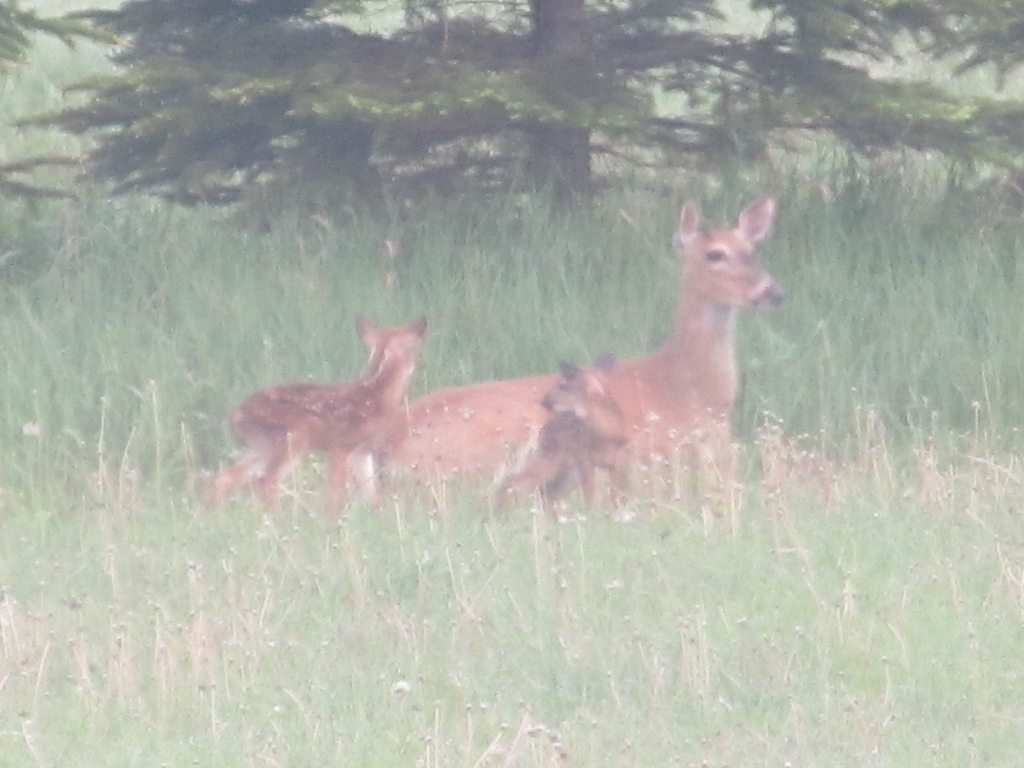 One of her two twin bucks from the prior year photo bombing this shot. The other one is just out of the shot on the right.
Ushering them into the woods.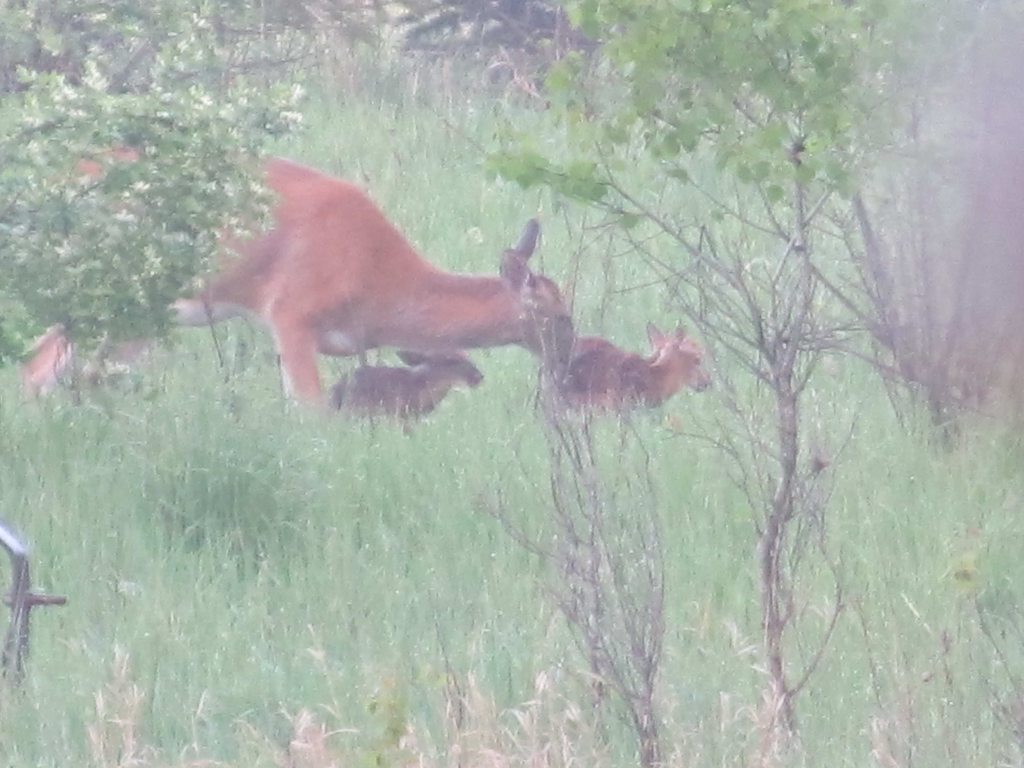 Here is a more recent shot of the other area I plant clover. There were about 20 of them and this was taken on Jan 2nd. The 3 month hunting season ended on Jan 1st. Nice to see a bunch made it, in part I'm sure, to the matriarch doe. The hay field the other side of the pines is my neighbor's hay field they gravitate to every evening. I just slow them down a little by planting some sweet clovers for them. This lets me watch and take photos while their in our backyard.
12 of 20
Last edited: