Joined

Mar 20, 2011
Messages

7,236
Reaction score

4,761
Location
Hardiness Zone

5b
In a weak moment, but a very exciting time, I decided to purchase a few fish on Ebay. If anyone has ever purchased fish there, with the high shipping cost for the first fish, you realize to make the fish more economical, you need to purchase as many as you can (or can afford in my case) to "fill the box" as they don't charge any additional shipping. I had been looking at fish for probably 4 months, and for some reason, decided to take the plunge earlier this month. Merry Christmas to me!!! I got fish from 2 breeders, and all are in the 4"-6" size. I set up my "kiddie pool" in the basement, and although it looks pretty hodge podge, it is working well. The fish are enjoying the nice splash from the water spilling over from the laundry basket quilt batting final filtration, and I even found 2 jet water sprayer things from my aquarium purchase, that I have on the bottom, shooting the water in a circle, in an attempt to keep any waste pushed toward the pump.
Here are a few pics of the fish when I put them into 5 gallon buckets as I slowly acclimated them to the pond water:
View attachment 39891
As you will see, I got some really nice Gin Rins in this mix. Only one is a standard fin, but couldn't pass him/her up as I loved it's color.
In the next photos, only 3 of the 7 are Gin Rin, but the others have scale or color patterns I was interested in, and they are also somewhat unusual.
View attachment 39894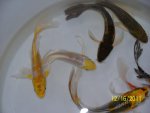 I have individual pics of the fish, as they were shown on the listing to show, if anyone is interested in any particular fish seen more close up! In the last set of pics, the largest fish with the yellow head and netting pattern (Butterfly Kujaku) jumped out of my basement pond twice the first afternoon. The first time I found it on the concrete floor, probably 80% dried off, and it was fine. The second time, it was caught in the netting, and I got it back into the water before it was harmed. Also, the fish with the yellow head and white body, it jumped out as well. When I found it on the floor (when the Kujaku was in the net), it was so dried out, I was certain it would die. But, held it in the water for may 30 seconds before it wiggled very strongly to be let go, and it is doing well, too!
I have sat and watched these fish a LOT since got them on Friday, and none are scratching, no sores, all seem extremely healthy, and obviously very hardy!