Joined

Apr 27, 2015
Messages

423
Reaction score

678
Location
Hardiness Zone

5
Country
Hi Folks,
It's been a while. I've been in and out, lurking, and watching, but not participating as I should be. Truth be told my pond pretty much ran itself last season and I didn't do anything new in it, but did build a trellis for "she who must be obeyed" so a couple of climbing rose plants could be put in, reclaimed a section of over-grown yard since I bought a new riding mower, and put up a couple sections of split rail fence. I put a metal roof on the "Inn", (which I wish I had done a couple seasons ago!) and just tended to what needed tending to.
I have a new project for next pond season, and as the header above eludes to, it'll be another "what was he thinking?" sort of thing just like the last several "brain cramps".
As some of you know, I usually have two shelves in the pond for lilies and cat tails all in containers, plus a couple of islands that have Creeping Jenny, some grasses, Iris, and some other volunteer plants that I don't know what they are. Next season there won't be any islands, or the east side shelf because of a new idea I want to try.
Years and years ago (middle '60's) I was stationed in Thailand. During that time I saw and rode in a lot of sampans. Recently I saw an ad for a genuine sampan that had been imported decades ago from Bangkok. This sampan is 10' long, shallow, and water-worthy with a little maintenance and fixing up. My goal is to fill it with colorful annuals that will spill over the sides, a couple of unusual pots on the bow, and a staff with a hook at the top to hold a lantern that will be remotely controlled from the "Inn" for some evening ambiance. All of the plants will be in purpose-built trays that will line the inside edges and they will be easily removed with a couple of hoes should the need arise. (Hoes! You know, garden hoes for weed control? Shame!
) (There won't be any soil actually in the boat, just in the trays.) The end result will be one 10' X 30" island full of flowers that hopefully will be the focal point of the pond even though ours isn't even close to a "Japanese Garden" in the strictest sense, there is a Japanese Maple in one corner...does that count? The boat will be tied off at the bridge, and the opposite side of the pond making it easy to bring the whole thing to the side of the pond for pruning and maintenance.
I'm working on a bilge pump system for when it rains, and any watering that may go astray.
Oh, and one more thing.......I saw in another thread some re-purposed shelving for pots and vines. I thought I'd share what we did with a shower hanger thingy that's designed for hanging from your shower pipe and holds your shampoo, sponges, and various smell-well stuff. Ours got rusty and needed replacing, and I told Herself that we'd use it outside with little pots and annuals. Now as these hangers outlive their usefulness inside, we'll hang them on the shed wall and each will be a little different.
A couple of the "Offshore Garden" potential....
This is the shower hanging basket thingy.....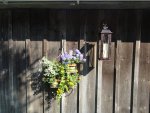 Last edited: