water gardener / gold fish and shubunkins
Moderator
Joined

Jun 23, 2010
Messages

35,589
Reaction score

20,327
Location
Hardiness Zone

6b
Country
From some net searching...
How to over winter plants:
Not really worth it, but you can put in a cool spot in your house with grow lights.
Water Hyacinth
Eichhornia crassipes
Zone 8
Flowers June, July, August
Lavender-blue flowers stand well above deep, waxygreen foliage. A must for your veggie filter. Long hanging roots make excellent spawning areas for fish. If you have trouble getting them to bloom, give them a boost in a soak of miracle grow for about a week, then put back in your pond.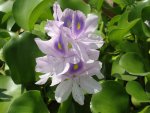 Water Lettuce
Pistia stratiotes
Hardy to zone 10
Water Lettuce is a floating plant with thick, fleshy, light green ribbed leaves that form a rosette that looks like a small head of lettuce. Individual rosettes can range from 2" to 18" across, depending on variety.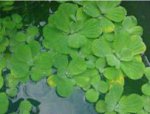 Bog Lily
Crinum americanum
Zones 9-10
This tropical marginal grows 18" to 24" tall and has long, strap-like foliage. It has sweet, fragrant,white flowers with spider-like petals. Prefers full to part sun.
If you are cooler than the zone the plant is rated for:
Set-up a tub that you can suspend florescent lighting above, and save a small piece in a small pot, to keep overwinter. The plant will not grow much during the winter months, but in spring after the water has warmed in your pond, repot in a larger pot, warmer temperatures will trigger renewed growth
Floating Heart
Nymphoides peltata
Hardy to zone 6
The leaves on this plant look like those of a small water lily. Groups of small (1") star-shaped flowers above unique heart-shaped floating leaves.

Primrose Creeper
Ludwigia peploides
Zone 6
A beautifully dark green marginal plant with dainty yellow flowers, that helps to filter your pond with its excellent root system.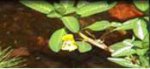 Parrot Feather
Myriophyllum aquaticum
Zones 5-11
Feathery foliage creeps out across pond. Excellent in fountains and falls.
Sun to part shade. Height: 6".
Spread: Running Water Depth: Moist to 5".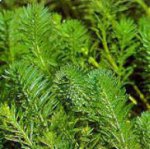 Water Clover
Marsilea mutica
Hardy in zones 6-11
Water clovers are from the fern family. The leaves of this water clover float nicely on the surface. Plant reproduces rapidly.
Bring indoors and treat like a houseplant, keeping moist for the winter season if colder than the zone the plant is rated for.
Umbrella Palm
Cyperus alternifolius
.
Zones 8-10
Crowns of bright green grass-like leaves. Grows in clumps. Grows to 4-5 ft. In height. Up to 6" water depth.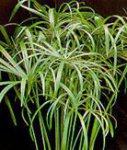 Violet Stemmed Taroand other Taro's
Colocasia esculenta
Zone 8
Up to 4" tall.
Attractive dark violet/black stems contrast with bold huge green leaves. An outstanding specimen plants, best suited to medium to large ponds.
Water Zinnia
Wedelia trilobata
Zone 8
This plant is a great choice for marginal or as bog planting. It blooms profusely in the late summer. Its habit is typical of so-called "creeping" bog plants, thick horizontal stems with numerous branches, that grow in all directions across water or mud. Grows to about 6 inches in height, and does equally well in sun or shade. If planted as a marginal plant, the soil line should be no more than 2 inches below water level.