Hello, I'm new to this forum
I have a fairly large pond,1200 gallons which has some Koi and Goldfish.
One of the goldfish seems to be different to the others as the size of its belly is larger and shape of its body makes it look swollen. It's an old fish approx 10 years and it's been like this for the best part of year. It doesn't seem particularly lethargic and swims normally. It's a female and has had offspring only last year, since then other fish have been trying to mate with it but it rejects all advances.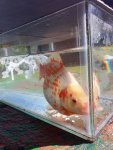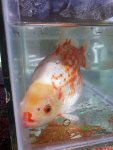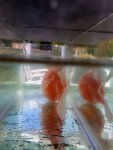 Is there anyone who can confirm whether this fish is just fat, or if it has some kind of disease like dropsy or anyone who can recommend that this fish should be kept separate from the others?
Thanks,
Barbara