Joined

Jul 7, 2009
Messages

2,817
Reaction score

19
Location
I've been terribly impressed by all the winter covers you folks have been building in the last month. I popped mine back up on my pond just a few weeks ago as I noticed the leaves coming down.
Instead of PVC, this year I decided to use 1/2" CPVC because it has a bit more flex to it (it's usually in the next aisle over from regular PVC at the home improvement store. You will notice that it's not pure white like standard PVC, it has a bit of a ivory or off-white appearance. The reason I am using this material is because my pond is a free-form shape, so I need to allow for lots of bend to account for the curves I'd need to be following. I just got the necessary tees and elboes to connect everything (without gluing them so I could take it apart easily and use it again next year).
Here we go:
You can see I used those plastic zipties to keep my netting in place, and to keep the center poles from separating (cheaper than using a tee or elbow in this area, too):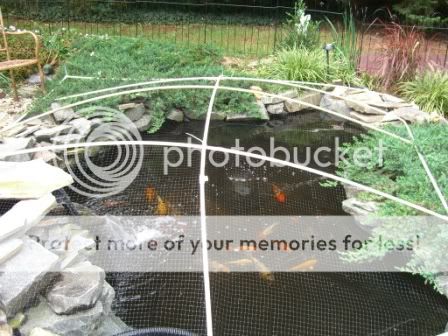 I was even able to incorporate my smaller upper pond into the netting as well: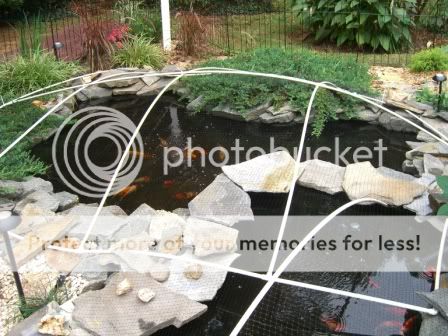 This is the netting I used. Got it from my local home improvement store. I think it was around $5/US. Since my water temp is still around 60 degrees, I am still feeding the fish and just toss the food through the net. It just falls right through the openings:
I think the whole thing cost me around $20/US. When the real cold comes I'll just toss an opaque tarp over the whole thing right before I shut down all my equipment. I figure I've still got another month to 6 weeks before I have to to do that. Some years I've kept the filter going until the end of the year. It will all depend on the weather. So far, yesterday, we still had a 75 degree day. It gets chilly at night and in the mornings, but warms up nicely in the afternoon. Gotta love Carolina living!