Overview
Welcome to my pond!
View attachment 107735
In 2014, I designed and built my 800 gallon pond after 4 years of having smaller ponds. I added the pond and its surrounding native garden in an attempt to make my yard more useful to wildlife. Habitat is disappearing at a devastating rate and our backyards can become somewhat of a nature sanctuary if designed correctly. Water sources are important for all kinds of animals and insects, and if paired with native plants, it can become a small but high-quality habitat that wildlife can rely on. My pond and surrounding garden has attracted all sorts of wildlife including frogs, toads, ducks, butterflies, bees, hummingbirds, dragonflies, and much more.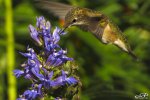 To take things a step further, I also added a bog to filter my pond. The bog is filled with wetland plants like Great Blue Lobelia, Cardinal Flower, Marsh Marigold, Horsetail Rush, and Blue Flag Iris. My bog is frequently used by birds who enjoy drinking and bathing in it, frogs who like hunting in it, and hummingbirds that come for the nectar that my wetland plants produce.
The native garden and new rain garden that surrounds my pond are filled with more native plant species that include Orange Milkweed, Blue-eyed Grass, Prairie Smoke, Hoary Vervain, Wild Geranium, and more. I also grow Mexican Sunflowers, which are non-native to my area, but are a pollinator magnet.
I've also added about 900 sq. ft. of native garden habitat in other parts of my yard that includes more than 30 native plant species, ten nesting boxes that have been used by Tree Swallows, Black-capped Chickadees, and House Wrens, and four bee houses for Mason bees and Leafcutter bees. The gardens become very active during the warm months. Many butterfly species can be seen drinking nectar or laying eggs on host plants. Bees of all sorts can be seen going from flower to flower drinking nectar and collecting pollen, or laying eggs in hollow stems. Frogs and toads can be seen on the ground looking for their next meal. While my pond has been a lot of fun, the native gardens are what I'm most proud of. It's truly a miniature habitat restoration that is desperately needed for so many species. Because of the success of my native gardens, I've turned 95% of my pond area into a native garden as well.
If you're interested, you can check out my personal pond and garden showcase site by clicking the image below:
Planning and Construction
When I originally added my smaller, 400g pond, I came up with a great spot for it. I initially wanted it in the back yard, but after taking some time to think about it, I though about the patio that was rarely used. It didn't offer anything. It was a concrete slab surrounded by the house and the garage. There was nothing that would make you think "I want to sit here". I installed the small pond and started sitting out in the patio area nearly every day. The small pond lasted one year before I decided to double its size. Here's a photo of the location of where my 800 gallon pond now sits. It was taken the winter before I dug the small pond. The fence on the right is where my patio is.
So, the project began on April 14, 2014. The old fence was removed and the new fence was brought over about 18 feet to make room for the new pond area. From there, the hole was dug and the liner and underlayment were put in and filled. I included a marginal shelf, a depth of 2 feet for waterlilies, and a maximum depth of 3.5 feet for fish and frogs to hide and hibernate. Flagstone was then placed around the edge of the pond.
From that point, work shifted over to the bog. I dug the hole, added the liner, and worked on the PVC. When it was ready, filled it with water and let it run a few days to make sure there were no leaks. A few days later, I poured the pea gravel in and immediately planted.
Once the bog was all set, I began working on the waterfall, which would sit over the bog's entrance back into the pond. In addition to the main waterfall, I also added a hollow log that has a trickle of water flowing out of it.
One of the last things to install was the brick edging between my pond area and my patio, which will help keep wood chips in the garden and off the patio.
With a little bit of time and help from mother nature, plants began filling in to create the habitat I had been waiting for.
In 2018, I extended my short fence sixteen feet behind my garage and added a rain garden, which has quickly become a popular hunting area for my frogs, even though it's still in the process of becoming established.
For the winter months I've added a Pond Breather. It adds oxygen to the water and allows gases to escape.
Fish / Plant Stock
Here's a frequently updated list of all of the plants and animals that live in or around my pond.
PLANTS:
(All North American native species are linked to their profile on the Missouri Botanical garden's website, so you can learn more about the native species I grow.)
(In the pond)
- Blue Arrows Rush (Juncus inflexus)
- Blue Flag Iris (Iris virginica var. shrevei)
- Broad-leaved Arrowhead (Sagittaria latifolia)
- Hardy Water Lilies (Nymphaea)
- Horsetail Rush (Equisetum hyemale)
- Smooth Black Sedge (Carex nigra)
(In the bog)
- Blue-Eyed Grass (Sisyrinchium angustifolium)
- Blue Flag Iris (Iris virginica var. shrevei)
- Cardinal Flower (Lobelia cardinalis)
- Great Blue Lobelia (Lobelia siphilitica)
- Golden Queen Globeflower (Trollius chinensis)
- Horsetail Rush (Equisetum hyemale)
- Marsh Marigold (Caltha palustris)
- Sensitive Fern (Onoclea sensibilis)
- Spiderwort (Tradescantia ohiensis)
(Around the pond)
- Black-eyed Susan (Rudbeckia fulgida 'goldsturm')
- Blanket Flower (Gaillardia X grandiflora)
- Bush's Coneflower (Echinacea paradoxa)
- Common Blue Violet (Viola sororia)
- Dianthus (Dianthus deltoides "Arctic Fire")
- Ferns (Wood Fern, Sensitive Fern, Lady In Red Fern)
- Foxglove Beardtongue (Penstemon digitalis 'Husker's Red')
- Grape Hyacinth (Muscari)
- Gray-headed Coneflower (Ratibida pinnata)
- Hoary Vervain (Verbena stricta)
- Marsh Blazing Star (Liatris spicata)
- Meadow Blazing Star (Liatris ligulistylis)
- Mexican Sunflower (Tithonia rotundifolia "Torch")
- Nodding Onion (Allium cernuum)
- Orange Milkweed (Asclepias tuberosa)
- Prairie Smoke (Geum triflorum)
- Purple Coneflower (Echinacea purpurea)
- Purple Poppy Mallow (Callirhoe involucrata)
- Purple Prairie Clover (Dalea purpurea)
- Stout Blue Eyed Grass (Sisyrinchium angustifolium)
- Wild Geranium (Geranium maculatum)
COMMON WILDLIFE:
- American Goldfinches
- American Robins
- American Toads
- Bees (various species)
- Black-capped Chickadees
- Butterflies (various species)
- Bullfrogs
- Damselflies (various species)
- Downy Woodpeckers
- Dragonflies (various species)
- Eastern Chipmunk
- Green Frogs
- Ruby-throated Hummingbirds
- Mallard Ducks
- Northern Orioles


and Goldfish (non-native)
Videos
2018 videos:
2017 videos:
2016 videos:
2015 videos:
2014 videos: