I recently cleaned out a pond, it is my first time since owning the property that came with this pond so I didn't know what to expect, hopefully I can get some advice here on how best to proceed.
All around the pond, just below the water level, is a coat of string algae. I saw the goldfish digging into it a lot, I assume they were eating it. Should I clean out these string algae? Are those algae dead if left alone or will they come back after I refill the pond? Here is an image showing the algae after the pond was drained.
Next question is about the pond water level. Even when it rained a lot, the pond does not rise above a certain level. I thought the pond has a hidden or buried outlet somewhere, but after draining the pond, I found that there is an area under a wood bridge (bridge was removed and I am building a new one now) that the water was spilling into. See the image below.
Is this normal that water just rises high and spill into the ground? If not what is a better way to do it? Also in the same picture to the left, there is a hole about five to six inches in diameter that goes deep. I am pretty sure crabs enter and exit the pond from here. After I drained the pond I found two crabs, I left them alone, the next day I found the crabs dismembered...probably raccoons. Should I close off this hole by filling it with dirt or sand?
Finally, the perimeter of the pond are faux rocks and boulders. Some are very large the size of a refrigerator. See images below.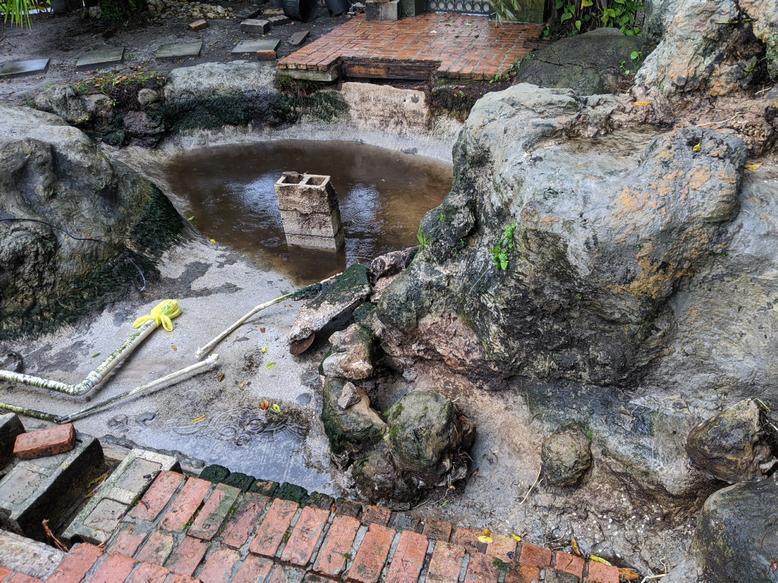 I would like to modify some of these rocks, to add some features and to raise one side higher. I am pretty handy but I tried to use some mortar to create some rocks myself as a test and the result does not look good...they look like concrete, not rock. I think to do this requires someone who has experience, skills and tools to create the color, shape, and texture close to natural rocks. I don't think this is what a regular mason who lay bricks and blocks do either. What is the name of the trade for a professional that does this for a living? I probably need to hire this out instead of DIY.
Thank you!