Hi, when I saw at my friends place a natural swim pond I was fascinated and started researching about garden ponds. It did not take me long to realise that a pond would be perfect in my garden.
Now I am in a planing phase, did some rough sketches (you can see the dimensions of my backyard on the picture - it is shaped like an elongated trapezoid roughly 22×14 meters - 72.18x45.93 ft) and I started digging where the wetland filter should be located.
The plan, for now, is to build a recreation pond roughly 6x6 or 7x7 meters - 19.69x19.69 or 22.97x22.97 ft (different depth, from 0.5 to 3 meters - 1.64 to 9.84 ft) with fish, plants, a wetland filtration on the raised level (you can see on the photo) and waterfalls from the wetland filter down in the pond. Also a pergola or something like that between the garden house and the pond and maybe a stream with waterfalls also on the level where the wetland should be.
QUESTIONS:
At this time I am thinking of maybe building a negative edge instead of a skimmer box. What do you think is better for this kind of pond?
What are the downsides of building a stream with waterfalls that goes into the wetland filter? Are then two pumps necessary, one to pump water into the wetland and other for the stream? If the water goes into the wetland from above does that in any way affect the filtration process?
As you maybe see on the photo the ground in my garden is very rocky. Anyone had any experience with that kind of terrain when building a pond and what should I be careful about? I guess it is going to be more expensive building in such terrain than usual.
That fact the I am from Croatia raises the question of equipment. There is a local supplier but they don't have the equipment for building a wetland filter. For now I know that I am going to need a pump, geotextile and foil and aquablocks+centipede+snorkel for the wetland. On YouTube I saw Aquascape products, does anyone know if it is available in the EU and where I can buy it? Or where can I buy equipment for pond building in the European Union?
Everything that I wrote is just a plan for now, and prone to changes. Any suggestions, advice, ideas on what should I do would be much appreciated. If you for example think that the pond is too big or that I placed it wrong, or anything like that, please let me know.
Attachments:
this is a sketch in paint of my backyard pond and wetland with dimensions in meters: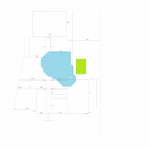 a photo of my backyard with rough lines where the pond, wetland waterfalls, negative edge, pergola and the stream with waterfalls should be: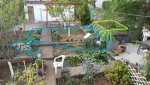 a photo of the ground where I started digging (as you can see it is very rocky):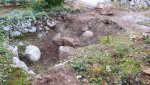 Last edited by a moderator: