Joined

Nov 19, 2018
Messages

59
Reaction score

62
Location
Hardiness Zone

9a
Country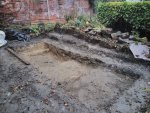 Hi We have dug out our old wildlife pond that we created over 30 years ago, making a lot of novice errors at the time. I'm hoping to replace it with a much larger pond for which the hole is
almost dug
(just needs another foot or so in part of the deepest level to give a total depth of 2'6" to 3' ) The area is approx 5m x 2.5m (sorry for mixed units) which, if it were a rectangular tank 1 meter deep would hold around 12, 500 litres. - of course it will be less because of the shelved sides, but I have no idea how to work out the actual capacity, We already have a more than adequate sized liner.
This time, I want to incorporate a short stream and water fall - no more than 6 feet long and a foot wide and would like to ask advice on a suitable size of pump The lift from the surface of the pond to the head of the stream should be no more that a couple of feet maximum, and I would want a low to medium flow of water - certainly not foaming rapids
.
My other question is, since this is a wildlife / ornamental pond and will definitely NOT have fish, do I need any sort of filter, and do I need a header tank - or could I just pump water up from the pond to discharge directly into the head of the stream. The photos above are of the old pond after we had stripped most of the vegetation away, and the hole so far. The shallowest level will be rounded off to give a pleasing shape when the pond is finished. Hopefully my help will be coming back to finish the job first week in January, so I would like to have all needed equipment sorted by then .
Thanks in advance for any advice people can give.