Joined

Aug 9, 2017
Messages

692
Reaction score

428
Hardiness Zone

8a
Country
It's getting late in the year and I am uncertain when the new pond construction will begin. Inspired by all the amazing people and ideas here at Garden Pond Forum I came up with this filter to stop just getting by, feeling like my tiny little pond was on life support, to actually improving the quality of the water from the knowledge I've gained from all of you.
Drum roll please, and the anticlimactic part begins.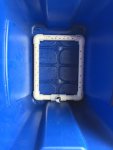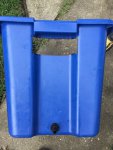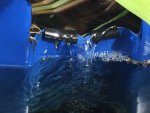 Did this yesterday and today the Water has never been so clear. I didn't want to put a big container full of gravel on 6 year old little liner for fear of cracking it. I had the plants in pond but water wasn't getting pushed through the roots. I used a sheet of air filter material, thanks
@sissy
, by the way that's getting harder to find, double layered because I still wanted it to also trap nutrients and serve as the biological filter. The holes in the pipes are pointed towards the center and up to prevent flow only around the sides. (Edit: it's not cemented together) That's it, I'll see how it hold up; if the roots grow into the filter material I'll just cut it out and replace as it's so inexpensive. Oh yeah, the container was on clearance at HD for under $4. The plants are Iris, cattails, and rush.
Last edited: