Joined

Jun 10, 2011
Messages

865
Reaction score

145
Location
Had to pick this up last weekend, I've been toying with the idea of buying another truck for almost a year, I had a 97 f-150 that I had dumped my time and energy into making mine, (6 inch lift, 36 inch tires, beefier suspension, tons of LIGHTS to help me see in the dark.
But unfortunately when my fiancé got pregnant with our second child… a three door truck that sat about 10 inches higher than stock was pretty impractical, very hard to load one kid over other when you can barely reach that high in the first place. And being as I didn't want to spend a whole lot of out of pocket money with a child on the way, I had to trade the truck in to buy myself a family sedan.
So I got rid of my beautiful truck and bought a dodge stratus, which I immediately regretted when summer rolled around and there was rocks to be hauled, 12 foot long boards to be brought home from Menards, and a myriad of other things my beast could do that my little sedan could not. I sure got tired of asking my grandfather or my dad to borrow their trucks to do the normal weekend running that I was used to with my truck before.
So it came down to two choices, buy me a beater truck, which I would have to pay insurance, and tags and gas and maintenance every month, or get myself a small trailer that I could hook up to the car to do the normal everyday work that I need to do. And of course, if I need to do some heavy work, I can still borrow a truck no problem, just not every other weekend like I need to do now.
So last week I am pursuing the local craigslist ads and BAM… there she is! a little 4x8 foot trailer for $150, the same one they sell at harbor fright for $almost 300. 950# capacity, and even folds up to store for the winter pefect little trailer to tow behind my car.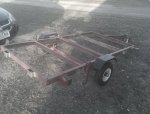 So it was mine J spent $40 and all day Saturday installing the hitch I bought on amazon for my car, installing the lighting adapter, and then putting a floor on and building some sides on the trailer, sides are easily removed and I can leave the floor on it to fold it up.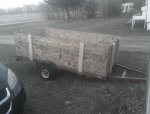 Nice little trailer for under $200, I still need to make some brackets to hold the sides together up towards the top and of course make them easily removable so I can take them off and on quickly when needed.
Between the new bike, the new trailer, and the new pond…. I've got myself a busy spring ahead of me.