Joined

Sep 21, 2022
Messages

27
Reaction score

81
Location
Showcase(s):
Hardiness Zone

13b
Country
Hi Everyone,
I stayed a little quiet after my introduction. I wanted to do some work in the garden and make some more pictures, but we had too many rainy days here in Thailand. Nothing serious though, just too wet. A little damage here and there, but again, nothing too serious.
This last weekend I actually said to my wife that maybe the rainy season is ending a little earlier this year because I notice the wind coming from the north instead of the south. And this is typically an good indicator that the end of the monsoon season is near.
Up in the North-East where my wife comes from, they had some serious flooding, but the water was receding and so my wife and the kids all went on a holiday to the farm for 2 weeks.
I stayed home. Hoping to do some serious work while everyone was gone. But this morning I woke up to the following scene....
As a reminder, the first picture shows what it looked like until yesterday.
The remaining pictures is what I found this morning when I woke up. The last 2 pictures were taken 3-4 hours or so later with much of the water receding. I can not see where this sand has come from yet, I am assuming from the farm behind my house, but there is still too much water there to really see what has happened.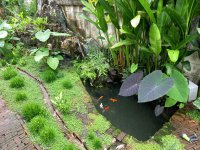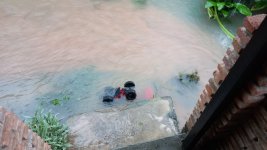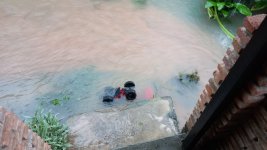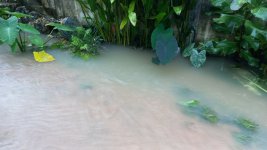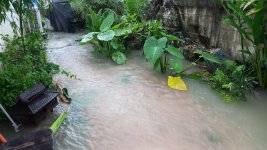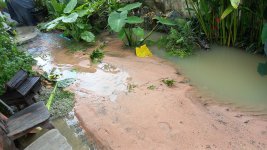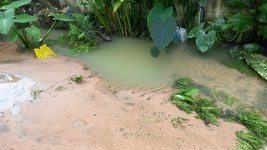 Today is a very sad day.
I always say that with every thing bad, there is always something good. You may have to look hard, but there always is. So let me think out loud here for a sec.
- There were about 10 guppies left I couldn't catch. I think it is safe to assume that that have taken the high road.
- The doctor told me to exercise. I HATE exercising. But I do like working. So I have something to do again.
- I still had to put up the electric box for the pumps. I now know I have to put it quite a bit higher than I had planned....
Other than that, I'm struggling right now to find something good.
Joey