Meyer, thanks so much for the detailed reply. I've learned a lot since I made the OP.
I'm not really sure how I can add a pre-filter to the pump I have. Mechanically, it would be difficult.
Do you think it would help if I put some of that sponge material inside the filter screen "cage". Here's a link to something I could easily get:
http://www.aliexpress.com/store/pro...-cotton-filter-cotton/1143024_1823665901.html
I would have to cut it to fit, but that wouldn't be too hard.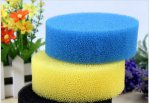 There's also this stuff:
http://www.aliexpress.com/item/aqua...of-filtering-pond/32233801104.html#magnet-ads
Last edited: