Joined

Feb 9, 2012
Messages

1,689
Reaction score

2,262
Location
Showcase(s):
Hello all, within the next month I plan on pulling all my comets from the big pond and getting rid of them. Some are quite large (10"s or so) while others are babies. I am not sure exactly how many, maybe 20-40 depending on the amount of little ones I find. I am going to make a day of it, drain half the pond pull the comets and put them in a holding tank to get rid of. If there are no taker here Ill put an add in the local classifieds. But I wanted to spread the word here first. It will likely be sometime in mid to late June. I am located in Salt Lake County.
The reason I am getting rid of them is simply because they are too frisky and have too many babies every year. I use to donate the excess to a local pond fish store for resale but they have since gone out of business.
I may have one koi to get rid of to. I am just keeping a handful of my favorite fish. Here are some pictures of them, the ones circled are going and more not pictured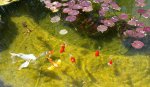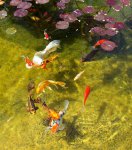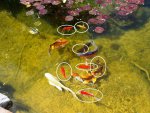 .
Last edited: