Joined

Nov 26, 2014
Messages

148
Reaction score

23
Location
Hardiness Zone

6B
Does anyone have one and if so, what do you think of it? Would you recommend it?
The pond builder recommended a more powerful one this week (the AP40) when rebuilding the pond, but for a pond of about 1500 gallons, I think the AP 20 will do just fine. Especially with both waterfalls going.
He had the 40 running in the tank where the fish were temporarily kept.
Apparently the Airmax Pondair 2 does not sufficiently circulate the water as well as the water should be to create max oxygenation. Our pond is 2.5-3 feet deep. We have that Airmax 2 now. It worked just fine during the winter, and I felt better having an extra source of oxygenation since the big waterfall had to be turned off because it leaked. I read somewhere online that the Pondair 2 was not enough to circulate the water and generate the most oxygen as it should, but I know that might not be accurate. The fish came through the winter just fine.
However, one airstone broke, so now I'll need a new one, and the seller thinks I might need this replacement part too...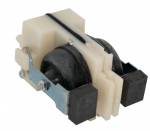 While I don't want to buy what's not really necessary, I do want an aerator on hand in the event the pumps die and I can't get new one(s) right away. I have learned I need to be prepared for an emergency, especially when I can't reach the pond builder for help. The Pondmaster unit looks more sturdy, but I have not had one before. Is it any better than the Pondair?